Top-Rated Newton-Area Auto Body Shop.
Founded in 1948.
Looking for the Best Auto Collision Repair Shop in Newton? Look no further…
Family-owned and operated for over 72 years.
Best Auto Body Shop in Newton. We guarantee it.
75+ years of top-rated auto body repair & paint service and counting…


Established in 1948, Dewire Brothers Inc is a family owned and operated business. We repair all makes and models of cars, trucks, and sport utility vehicles. Your trust in us is extremely important. The bottom line is, we want you to be so pleased with the repairs that you tell a friend.
Dewire Brother's has recently achiever I-CAR Gold Class. I-Car's Gold Class is the highest role-relevant training achievement recognized by the collision repair industry. In order to earn I-Car Gold Class certification, shops must achieve and maintain a high level of role-relevant training across each of the major collision repair roles.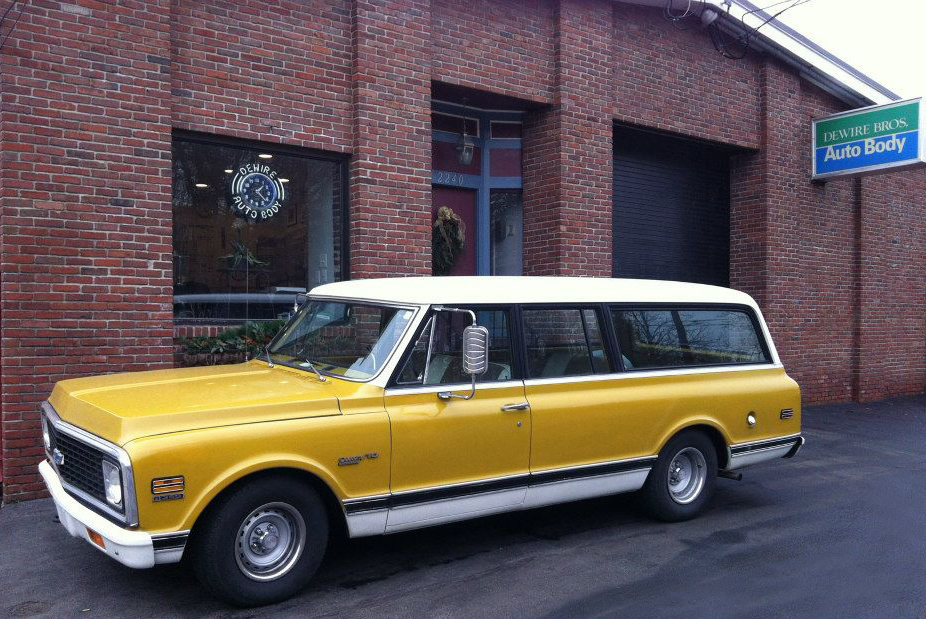 About Dewire Bro's Auto Body Repair Shop
Welcome to Dewire Bro's Auto Body Repair Shop, where quality craftsmanship meets family values! With over 75 years of dedicated service, we are a trusted family-owned and operated business that takes pride in providing top-notch auto body and collision repairs as well as exceptional paint jobs.
Our Story
Established in 1948, Dewire Bro's Auto Body Repair Shop has been a staple in the community, earning a reputation for excellence and reliability. As a family-owned business, we understand the importance of building strong relationships with our customers and treating them like family. Our journey began with a passion for automobiles and a commitment to restoring damaged vehicles to their former glory.
Our Commitment to Quality
At Dewire Bro's, we believe in delivering nothing short of perfection. Our team of skilled technicians, who share the same passion for automobiles as our founders did, meticulously handle each project with the utmost care and attention to detail. From minor dents and scratches to major collision repairs, we employ state-of-the-art equipment and cutting-edge techniques to ensure a seamless and flawless finish every time.
End-to-End Auto Body and Collision Repairs
With decades of experience, our team has mastered the art of auto body repair and collision restoration. No job is too big or too small for us. Whether your vehicle requires dent repair, frame straightening, bumper replacement, or complete collision reconstruction, you can trust us to handle it with precision and skill. We go the extra mile to bring your vehicle back to its pre-accident condition, ensuring both your safety and satisfaction.
Exquisite Paint Jobs
A vibrant and polished paint job can truly elevate the appearance of any vehicle. At Dewire Bro's, we boast an exceptional paint department that caters to all your automotive painting needs. Using premium quality paints and expert color matching techniques, we transform your vehicle's exterior, leaving it with a breathtaking finish that turns heads on the road.
Customer Satisfaction
Customer satisfaction has always been at the heart of our business. We are deeply grateful for the trust our community has placed in us over the years, and we take every effort to exceed their expectations. From providing honest and transparent estimates to delivering timely and efficient services, we prioritize our customer's needs and ensure a seamless and stress-free experience throughout the repair process.
Join the Dewire Bro's Family
When you choose Dewire Bro's Auto Body Repair Shop, you're not just a customer; you become a part of our extended family. Our commitment to excellence, combined with our warm and welcoming atmosphere, sets us apart from the rest. Whether you're a first-time customer or a long-standing patron, we treat everyone with the same respect and personalized attention they deserve.
Thank you for considering Dewire Bro's Auto Body Repair Shop for your automotive repair needs. We look forward to welcoming you into our family and showing you why we've been a trusted name in the industry for over seven decades. Contact us today for a free estimate or to schedule an appointment. Let's bring your vehicle back to life together!